Over The Edge by Meredith Wild
Genre: Contemporary Romance
********Available 22nd November********
"An intriguing, sexy story about unexpected love and balancing others' expectations against your heart"
NYT Bestselling Author Shayla Black
"The third book in Wild's Bridge series is a fantastic read, certain to woo new readers and satiate her returning fans. Over the Edge checks off all the boxes: it's emotional, intense and extremely sexy. Wild taps into an often thought of as taboo fantasy — one woman sharing two men — and makes it a possibility, allowing the reader to live vicariously through the main character. While this is part of the Bridge series, it's also effective as a standalone novel."
Olivia Bridge has always been a good girl—good grades, good friends, and a good job that her wealthy parents handed her. Desperate to carve out a life that is truly hers, Liv walks away from it all and takes on the challenge of helping her brothers open a chain of fitness centers in New York City. Just as she's beginning to find her footing in a new place, she's caught between two men who couldn't be more determined to turn all her goodness inside out.
Will Donovan has the capital to make the Bridge brothers' entrepreneurial dreams a reality. Taking their uptight sister to bed seems a reasonable perk for the risk. Liv is the smartest, sexiest prude Will's ever met, and he can't wait to break her down.
Life is too short for Ian Savo to play by anyone's rules. Sharing women with his friend isn't anything new, so when Will introduces him to Liv, he can't wait to get a taste. But falling for the same girl, or falling at all, was never in the plans...
The Bridge Series follows Cameron, Darren, and Olivia Bridge, three siblings living in New York City. Desperate to break away from the crushing expectations of their wealthy and privileged and equally broken family, they carve out a new path together. But can they find real love along the way?
Each book follows a different sibling's journey and can be read as a standalone.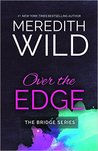 Over the Edge
by
Meredith Wild
My rating:
5 of 5 stars
I'm a big fan of all Meredith Wild books and let me tell you this is one of her HOTTEST ones yet. I have been wanting and waiting for Olivia's story since On My Knees when we were first introduced to all of the Bridge Siblings.
Meredith takes you on a Wild (pun totally intended) and emotional ride with Olivia and the two men in her life. Will and Ian have shared many women before but they never wanted to keep just one for the both of them.. Until Olivia. But can Olivia love two men at the same time and will those around her be accepting of the relationship she has with both of them?
Over The Edge can be read as a standalone but I highly, HIGHLY recommend reading all three in this series. I think this is Meredith's best book yet and cannot wait to see what she comes out with next.
View all my reviews
Meredith Wild is a #1 New York Times, USA Today, and international bestselling author of romance. Living on Florida's Gulf Coast with her husband and three children, she refers to herself as a techie, whiskey-appreciator, and hopeless romantic. When she isn't living in the fantasy world of her characters, she can usually be found at
www.facebook.com/meredithwild.
Other Books in the series:
Into The Fire (The Bridge Series #2)
On My Knees (The Bridge Series #1)
GIVEAWAY