Judy's Review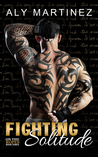 Fighting Solitude
by
Aly Martinez
My rating:
5 of 5 stars
This book broke my heart into pieces. From the first page to the end I could not put this book down. I was sucked in and it was not letting me go. I can say without a doubt this book will stick with me for awhile to come. Fighting Solitude is absolute perfection and wonderfully written.
Liv is a character who is not only strong but fiercely loyal. I think i have a little bit of a girl crush on her but heck you give me Liv and Quarry... yummy (bahaha)
Quarry and Liv will take you on a worth while ride and have you feeling emotions when you least expect to.
Aly has yet to give me a story that I not only fall in love with but is beyond amazing.
Received an advanced copy in exchange for an honest review
View all my reviews
About the Author